Here at RVs of America we have enjoyed becoming the Black Series experts and authority in the United States.
We are impressed with the off-road capability and construction quality. If you've owned a camper, travel trailer or fifth wheel then you probably know the quality can be very depressing. Most trailer RV manufacturers have the philosophy "stack 'em deep and sell 'em cheap". They focus on quantity as opposed to quality.
Fortunately there are a few exceptions to this. Airstream and Oliver trailers are well known for their quality. However, they are designed to be used only on the pavement. More and more people are wanting to explore and get off the beaten path. This is why Airstream recently added the Basecamp, a so-called off-road capable travel trailer.
Black Series caravan trailers combine the build quality of an Airstream or Oliver with the off-road capability of a Jeep. They are true off-road kings!
Let's start a quick walk-around of the flagship Black Series off-road trailer, the HQ19.
Black Series HQ19 Suspension
Let's start with the suspension!
Above is a picture of standard suspension on all Black Series HQ model caravans. While we do end up adding our own upgrades and modification to the Black Series trailers, the suspension really isn't in need of any upgrade.
There are two gas shocks on each control arm, a total of eight gas shocks. The control arms are load tested at 40,000 lbs per arm. That is 160,000 lbs total on the HQ19.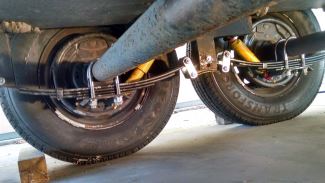 Here you can see the suspension on a regular travel trailer. It has an axle with leaf springs. This will not allow for independent articulation will perform terribly off-road.
Each wheel is equipped with 11 inch electric drum brakes.
The stock tires are Cooper Discoverer LT265/75/R16. This is a 6 ply tire.
Some owners prefer to upgrade to a 10 ply ( Falken Wildpeak AT3W or BFG KO2 are popular choices ). On the HQ19 since it has four wheels and tires, this is not necessary but some always like to beef it up!
Here we have the red bash bars. These are great and have saved us on multiple occasions from damaging the body of our caravans!
Hopefully you won't have to use them, but it's a great feature just in case! There is almost 26″ of clearance which is amazing.
The rear end behind the bash bars are home to a couple great features. First is the stabilization leg. This is pretty much standard on every travel trailer. These should NOT be used to level the trailer, only to stabilize after the trailer has been leveled properly.
You will also see a red recovery hook. This can really come in handy when things get tricky.
The total length of the Black Series HQ19 is 26 ft 3 in.
Some people are confused by the 19 in HQ19. This does not mean length of the trailer.
Every Black Series HQ19 comes standard with dual pane polycarbonate windows. This is extremely important. Any trailer or RV with single pane windows will lose crazy amounts of heat through the windows.
My favorite part of the HQ19! The slide-out exterior kitchen is amazing. When we go camping, we want to be outdoor as much as possible!
This outdoor kitchen is very solid. It latches in place and has a magnetic leg to stabilize.
Each Black Series HQ19 comes stock with two 20 lb propane tanks. This compartment is big enough to fit two 30 lb tanks. We often switch them to 30 lb in order to stay off-grid longer!
The Black Series caravans aren't just off-road trailers designed to only be used off grid. They are equipped with a city water connection like all U.S. made travel trailers. This allows you to camp at an RV campground if you wish. ( please note the city water connection is now black, not white like this one )
You can see the two black caps to the right of the city water connection. These are for the two separate fresh water tanks on every Black Series HQ19. The general water tank on the right is 60 gallons and is used for everything ( toilet, shower, faucets.. ). The cap to the left is the drinking water tank. This is unique to the Black Series trailers. It's 15 gallons and has a separate water pump. This water passes through a triple filtration system. Super Nice!
The residential style breaker box is amazing. Very sturdy and simple to use.
The five breakers are for the following – 1. Inverter 2. A/C input 3. Fridge 4. Water Heater 5. Outlets
The standard hitch as opposed to a normal ball hitch is called a polyblock.
This allows for articulation off-road. Having a hitch capable of articulation is a must for any off-road trailer. While this hitch is amazing, we do end up swapping it out for a McHitch quite frequently. This is because the polyblock is often difficult to hookup. The McHitch is a breeze.
The HQ19 comes stock with 300 watts of solar. We can place an additional two panels for a total of 700 watts.
The roof is single sheet aluminum.
The frame is hot dipped galvanized steel with a 5 year warranty. This will last a lifetime.
The jockey wheel is excellent if you ever need to pivot your trailer around. Just make sure to lower the jack all the way down to avoid bending it.
Also in the above picture you can see the hand brake. This is very helpful while unhooking and hooking up.
There you have it for the exterior walkthrough on the 2020 Black Series HQ19!
Check out our next post for the interior walkthrough.

Thanks!