Only the best suspension for the best trailer.
The Roamer 1 is the pinnacle of innovation and quality in an off-road travel trailer. Truly standing in a class of its own, the Roamer 1 has been designed to handle every condition from extreme temperatures to demanding off-road obstacles.
On the other hand, the new Roamer X offers a single piece molded fiberglass exterior with a refined, modern interior. The massive U shaped Dinette will seat the whole family and comfortably sleep two adults.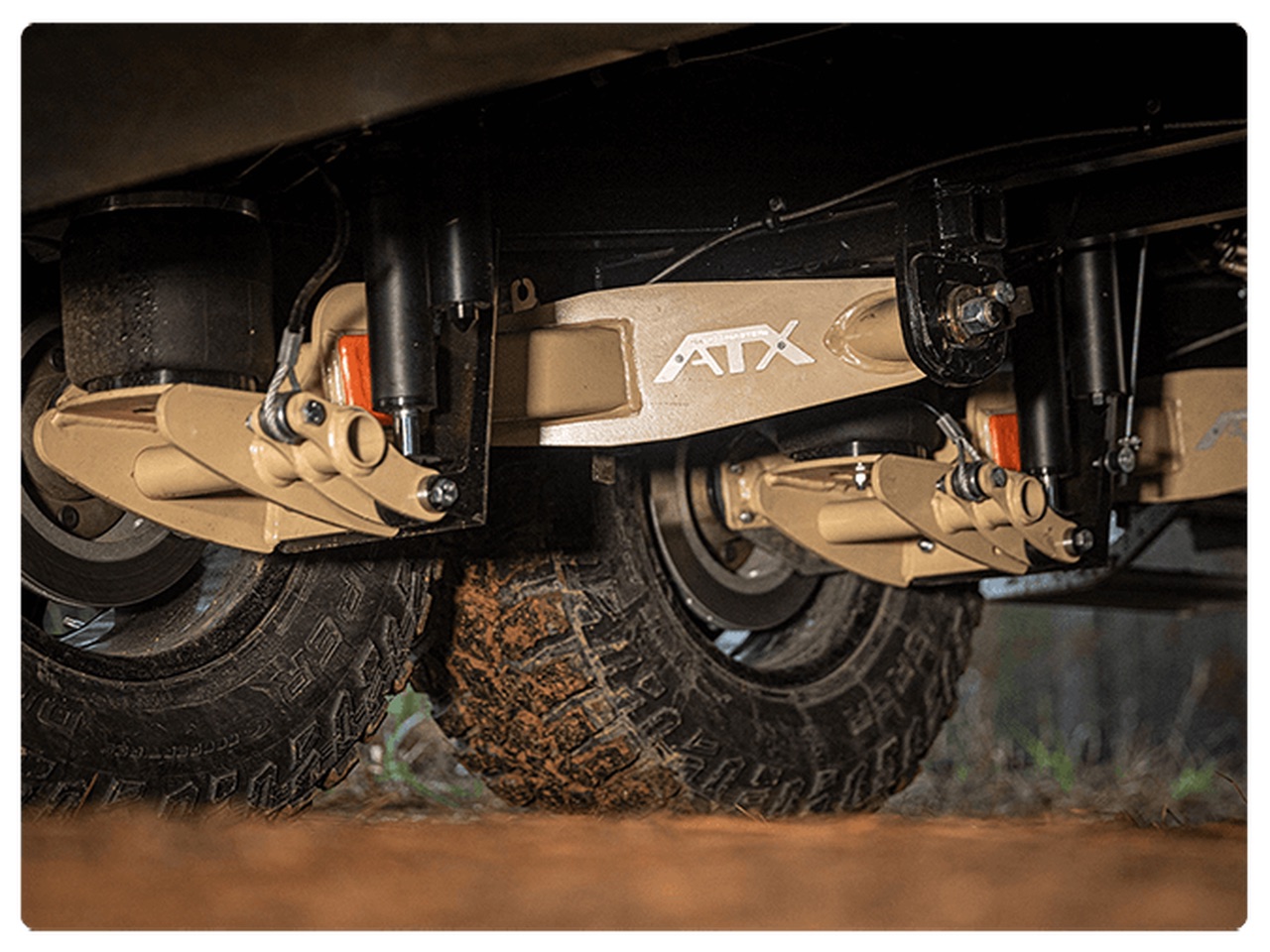 CruiseMaster ATX Airbag Suspension
The Roamer 1 will float along the dirt trails with the ATX suspension system. Engineered specifically for the Roamer 1, this system will enable you to effortlessly traverse difficult terrain and set up camp with the press of a button.
We believe a true off grid caravan can run everything off the grid, even the Air Conditioner! With the Roamer 1 off grid trailer, you'll be able to run the Air Conditioner non stop. However, you won't need to with the best insulation in any trailer in the world. The Air Conditioner will turn off when it reaches your desired temperature. Don't be afraid to camp in 120 F climates with the Roamer 1! No Generator required.
With the unique single body fiberglass you don't have any seams on the roof. This prevents water intrusion and gives Peace of mind that you won't have water damage from the roof. This also increases strength and the overall longevity Of the trailer's life. It reduces annual maintenance that every trailer on the market requires to prevent leaks. The Fully molded fiberglass reduces weight and makes this unit towable by many more vehicles. Though there are a few Trailers world wide that employ this same type of construction like the bruder, kimberly or zone campers; the one Area that sets this apart from even those products is that it is four seasons and can reach zero degrees.
Sleep is one of the most important things in a human's life. We spend 1/3 of our life in bed. At home we spend time and money on this essential human need. A good night's rest is not something we are willing to sacrifice while camping and neither should you. In the Roamer X we have built it around having a true queen sized bed and we create the ability for you to option the best bed that fits your needs. The comfort doesn't end there. The 7 foot ceiling allows you to truly stretch your arms. The oversized booth and dinette table is comfortable to sit 5-6 people and sleep 2 adults.