Australian Designed, American Owned
Australia truly leads the world in quality and innovation when it comes to off-road camper trailers. OBI has taken the best of what Australia has to offer and adapted it for the USA market. The OBI Dweller comes standard with features that most people have never seen on a trailer before.If you are looking for a rugged, off-road worthy rig with all the comforts, OBI Dweller has what you need.
Coil and Shock Suspension
If you venture off the paved road you need a suspension that can articulate and absorb the bumps. A solid axle suspension might be strong but it will bounce all over a bumpy road. Each OBI Dweller comes equipped with independent coil and shock suspension to ensure comfort and longevity.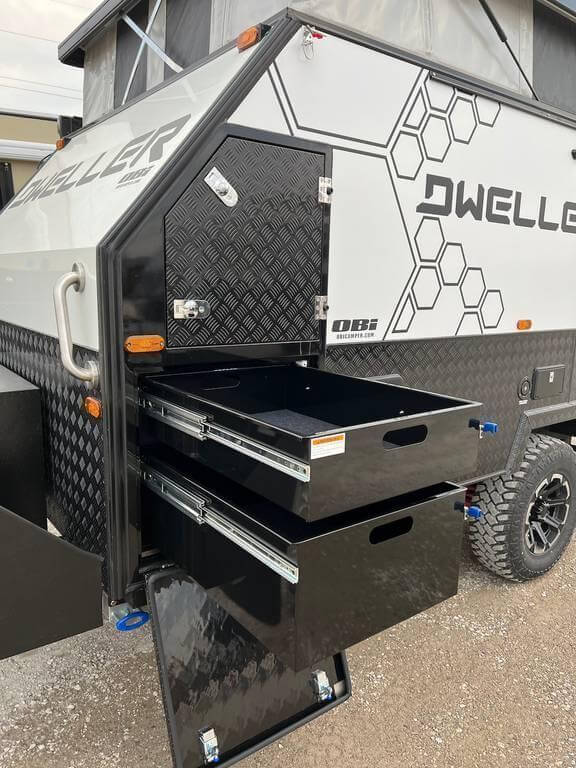 The OBI Dweller is an off-road trailer that looks good on the outside, but it's really what's on the inside that counts. Sometimes manufacturers will cheap out on the things you can't see, but not OBI. Truma, Renogy, Houghton, Dometic are some of the brands that you will find in the OBI Dweller.
The OBI Dweller 13 comes standard with 300 watts of solar, 300 amp hours of Gel battery power, and a 2000 watt continuous pure sine inverter / charger. Bring along the blender and coffee maker, they will be no problem for this electrical package!