Truly an incredible trailer with top quality components and construction from the ground up! Our favorite part of the new Pause XC 20.3 is the technology. Everything from the lights, awning, suspension to the battery management system can be controlled via the Garmin tablet or app on your phone. This creates easy use of every component on the trailer as well as easy diagnosis. Pause by Palomino has really blown our expectations out of the water! Battle Born 540ah (6,480 watt hour) battery bank standard with the option for 1080 amps (12,960 watt hours)! Mor-ryde adjustable independent airbag suspension brings many capabilities and comforts. It absorbs bumps and vibration from off-road use, increases your clearance, allows you to level the trailer with the push of a button, let's you lower the outdoor kitchen to your desired height, makes it easier to change a flat tire, and enables you to fill up tires or toys with the on-board air compressor!
Monitor each side of your Pause XC20.3 with the included tablet wirelessly connected to 4 cameras. Gaze at the night stars in bed with the two overhead dual-pane insulated windows. Ready for bed? Close all the blinds for a true black-out darkness!
Pause by Palomino has brought an incredible off-road trailer into the USA market with the new Pause XC20.3. Entertain all of your friends and family with this unique style floorplan. A interior bar with bar stools and a pass through window will allow you to relax with a great vista of the outdoors right in front of you. You can enjoy cooking either inside or outside with this coach. An interior kitchen with a large 16cf Refrigerator will suffice on a rainy day and a exterior griddle with a 12v Truma fridge will grant you the ability to cook in the great outdoors as well.
The walls are an incredible composite material called Transcore
Transcore is a lightweight, abrasion and puncture resistant, engineered thermoplastic composite sandwich panel. The panel is engineered with high glass content skins that are thermally fused to a resilient thermoplastic core which provides an optimized structure to provide durability and stiffness at the lowest weight possible. The 1 piece seamless structural weather resistant composite panel is hydrophobic, resists corrosion, mildew, degradation. NEVER HAVE TO REPLACE YOUR WOOD in FLOOR, WALLS, or ROOF AGAIN. BUILT TO LAST WITH TRANSCORE™ COMPOSITES
100% Waterproof
Environmentally Friendly and 100% Recyclable
Bio-Stat Technology (anti-microbial and anti-fungal)
Lightweight Insulative
Increased Trade-In Value
No Rot or Mildew, Insect Resistant
Impact Resistant
1-PC Seamless Panel
UV Resistant
No formaldehyde or carcinogens like other products
Call or text us today for more info or to order the new Pause XC20.3 off road trailer! 
MorRyde Huck- Rivet Aluminum Frame: MorRyde Independent Air Ride Suspension with Bilstein Shocks, Articulating Hitch, A Frame Storage Box, Automotive off-road rear bumper w/2 swinging tire carriers, 25" Ground Clearance
Garmin O.N.E Control: One touch leveling system- electric stabilizers and tongue jack, Off Road Navigation, Fusion Entertainment, Smart Control of Electronic Functions
Solar Standard: 600 Watts of Solar on Roof, 2 – 270AH Lithium Battleborn Batteries, 1 – 3,000W Victron Inverter, 2 – 50A Victron Solar Chargers
Solar Upgrade: 600 Watts of Solar on Roof, 4 – 270AH Lithium Battleborn Batteries, 1 – 3,000W Victron Inverter, 2 – 50A Victron Solar Chargers, 2 – 300 Watt Portable Solar Panels
Piuma Dual Pane Acrylic Windows w/integrated blind and screen
Transcore Composite floor, walls and roof - No Wood throughout Unit
Full Body Wrap
Polyurea Coated Front Wall and Extrusions
Thule Legless Awning
Puncture Proof Underbelly
Off Road Light Bar
WiFi Ranger
Rear 62.7 cubic feet of storage
Aluminum Cabinets
Offboard air for inflation of tires, toys, etc.
Tire Pressure Monitoring System
TONS OF OPTIONS TO CHOOSE FROM:
Full solar, Full Battery (1080Ah)

Half solar, Half Battery (540Ah)

Mechanical Queen Bed Lift

Fixed Queen Bed

Couch Configuration

Full Size Fridge

Smaller fridge with slide out pantry

Bar option/converts to bed

Dinette with table

4 season package

Blacked out- Rhino Liner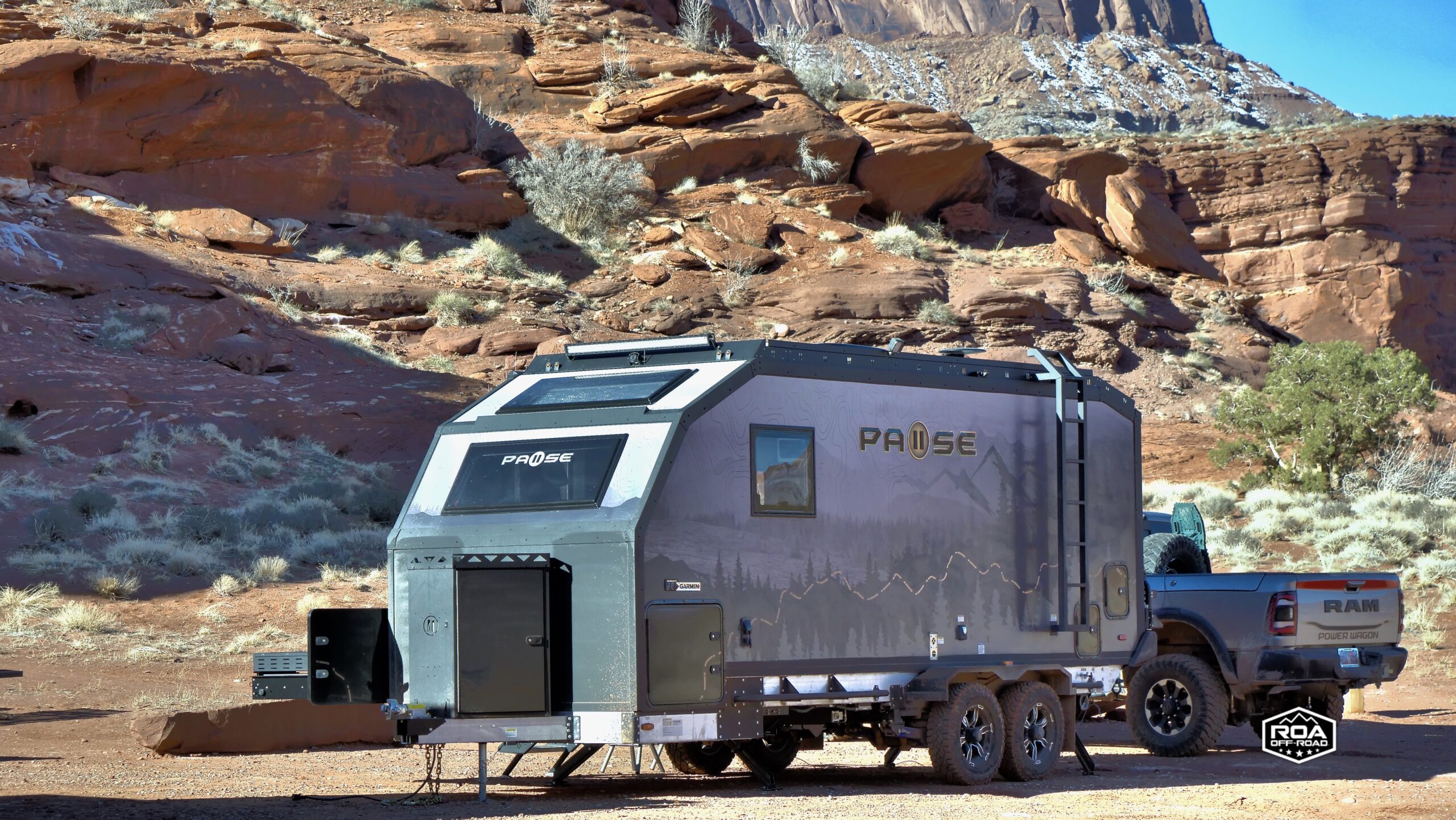 Spacious And Flexible Interior
Innovative use of space with the bar counter that easily converts to a comfortable bed for 1 adult or child.
Cook Meals Surrounded By Nature
Easily one of the best outdoor kitchens I have ever seen! Griddle and Grill combo, 12v Truma fridge, hot/cold faucet with sink and lots of prep area! This slide out is so strong it does not need a support leg!
Bring Your Kitchen With You
The indoor kitchen is amazing with a 16 cubic foot fridge! It is like bringing your kitchen from home with you on the road! With a 4-burner stove, full size microwave, and an oven! You can truly live full time in this trailer. Long extended trips will be no problem at all.
Private And Roomy Bathroom
The bathroom of the Pause XC20.3 features a porcelain toilet, large shower and tons of cabinetry for your toiletries.
Length- 26ft 2in
Width- 6ft 10in
Height- 10ft
Interior height- 6ft 6in
Fresh Water- 76 gal
Gray water- 30 gal
Black water- 30 gal
Queen bed at the front of the trailer sleeps 2 adults. Option for Dinette or bar counter that can both convert into a bunk for additional guest.
Dual Control Arm Independent Suspension by MORryde Equipped with Airbags for up to 12" of vertical travel for traversing any obstacle.