The UEV-19, a "His and Hers," Off Road Camper
---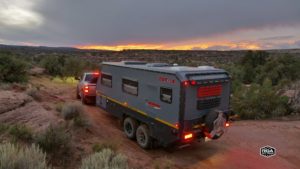 There is so much to be said about the UEV-19. With this this off road camper, you don't have to choose between capability and comfort. Conqueror is an expert when it comes to making trailers that reach the ideal of "his and hers." The UEV-19 brings both what the men like and what the women like together in one fantastic caravan! No more compromising. With this unit you can have both comfort and off road capability. Let me show you exactly what I'm talking about.
---
Beautiful Inside, Rugged Outside
(Outside)
The UEV-19 has a very unique appearance. Unlike so many of the travel trailers that look quite similar to each other, this off road trailer isn't going to get mistaken for any other brand. This caravan is going to turn heads when you stop for gas or take a trip to the store. If there was ever a camper that looked rugged, this is it. People will often gravitate towards this beast of a trailer and I don't know about you, but I can't help but enjoy it when people are admiring my camper. Plus, you may make some unexpected friends.
–          –          –
(Inside)
The inside of the UEV-19 is just beautiful. It has plenty of light that cascades in and makes the modern look even more appealing. One of the best parts is that everything is made of aluminum. Not only does it look nice, but you will never have to worry about that infuriating delamination. Many trailers have wallpaper or laminate on the cabinets and walls, and unfortunately begins to come off after some time. Many times the laminate can even start peeling off if it is just a hot day. When that happens it destroys the beauty of you camper. With the UEV-19 by Conqueror, you never have to worry about that problem!
---
Military Tough
There is a reason this camper is so strong and capable. Conqueror began their journey by building for the military and there are few things stronger than those used by the military. After a time they finally came into the civilian market, manufacturing off road trailers for the public too. From the frame to the suspension, the hitch to the body, everything on the UEV-19 is one of the most capable things on the market in its class.
–          –          –
The Frame
You always need a good foundation to begin with. If your foundation is weak, It doesn't matter how strong everything else is, things will still fall apart. This frame is made of a hot dipped galvanized steel. What's the difference between your average steel and this? Quite a lot in fact. It goes through the same process that they use to make freeway signs, chain link fences or the posts you will find at peers in the ocean. Galvanization is one of the best things you can do to prevent corrosion on steel and that's why you will see it in places where the elements have free rein. In places that if you didn't galvanize the steel it would immediately begin to corrode.
There are, of course, cheaper and less effective things you can do to fight corrosion, but Conqueror wasn't interested in a cheap fix. Galvanization is the most expensive and best process to make steal last. When galvanized, it can last upwards of 100 years in the harshest climates. This frame is nothing to scoff at.
On top of that, everything is welded with extra bolting at any and all of the possible weak points.
–          –          –
The Suspension
Let's talk about suspension because it's one of the most important features of an off road trailer. Without fantastic suspension, you really can't consider a camper off road capable. Unfortunately, there is some confusion about suspension, because many people are claiming to have off road trailers when they don't. There are definitely some misconceptions out there. One of those is that all you need to do to make a trailer off road is to slap some big tires on it. There's a lot more to it than that.
At ROA OFF-ROAD we were one of the very first to import off road campers into America and one of the things that we found out really early in the game, was that independent suspension versus solid axles is a night and day difference when it comes to off-roading. As a matter of fact, I don't believe you can even consider your trailer an off road trailer if you're running solid axles and leaf springs.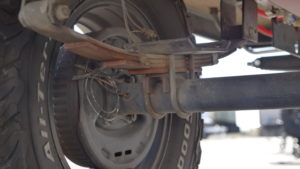 If you haven't looked into suspension much, then you may want to take a peek and do a little research. If you go back and look at old old trucks from the 70s and 80s some of them still have leaf springs. It's true that leaf springs are really strong and heavy duty, but they don't have the right flexibility and capability for the bumpy off road trails. Capability is about more than just strength.
Something that is also a little concerning about leaf springs is that they have been around since the 1800s. You can actually see them on carriages and old, old vehicles and vehicles in that time were not meant for anything rougher than a dirt road in town. In fact, If your driving down the road in many of the trucks before the 2000s that still sport leaf springs and you hit a bump the whole truck shakes. That is because leaf springs are very stiff. They are tough, sure, but stiffness is not a good off road quality.
A true off road trailer needs independent suspension. Independent is king, and this UEV-19 has an independent Airbag Man system, which is a very very common system you see in Australia. Pretty much everybody who's using any type of airbag suspension system is going to be using these airbags. With independent suspension your towing experience is immensely better. When you go over rough terrain with leaf springs and a solid axel the truck rocks with the trailer, which if it gets bad can be quite dangerous. On the other hand, independent suspension doesn't do that. Because each tire can move separately rough terrain doesn't pose any danger and is much smoother to tow on overall.
One last cool feature about this independent airbag suspension is that you can level your camper even if you are parked in a spot that isn't flat. You can raise and lower either side by pumping up or releasing air from the airbag suspension. That way you don't have to try to get your wheels up on blocks to level things out.
–          –          –
The Hitch
One of the other off road essentials when it come to a caravan is the hitch. On the pavement you have no need of pivoting and articulation, but off the beaten path those things are a must.
If you don't have those, then things can become dangerous very quickly. If you trailer were to roll, heaven forbid, it would take your tow vehicle with it. That is not something we want to risk.
Now, there's a few different brands out in the marketplace, but at ROA OFF-ROAD we love the McHitch. Mostly just because it's the easiest hitch to set up. The receiver is like a funnel or a spaceship docking station that guides the hitch into locking position.
Of course the ease up hookup is nice, but the hitche's capability is what really is important. The McHitch articulates, moves and swivels in every single Direction 360 Degrees. So, so important. Many of the places you will go off-roading if you had a standard ball hitch, it would just snap. There are moments when your trailer is twisted at one angle and your tow vehicle is twisted at the other, or you tow vehicle is flat while your camper is still up on a rock at a diagonal. Nothing but an articulating hitch will cut it.
–          –          –
The Body
And finally, the body. It only makes sense that if the body of your trailer is flimsy, the camper couldn't be considered military tough. The UEV-19's body is constructed entirely with aluminum. The box, the exoskeleton frame and the rivets that hold it all together. It's all made of aluminum and is very, very strong.
This trailer aint no wimp, and that's for sure.
---
Comfort
Now that we have tackled this camper's capability and strength, we want to talk about the comfort. It's true that we go camping to get away from civilization, but no one ever made it a rule that you can't be comfortable while you get away.
–          –          –
The King Bed
Conqueror actually put a king sized bed in the UEV-19. That is almost unheard of in an off road camper!
You will never have to worry about being cramp with this gargantuan bed. On top of its shear size Conqueror was really thinking about the one who would buy this trailer. Around the bed they put multiple plugs, which means you can be charging your phone or whatever else you may want to while laying back in bed. They also put some nice storage both on the sides of the bed and in overhead compartments. You are going to love the sleeping arrangements in this rig.
–          –          –
The Table
First off, if you have more than two to sleep, the table folds down to comfortably sleep another adult or two kids. It's always nice to have extra sleeping accommodations, but this table is so much more than a potential bed.
The table itself is a good size to eat together on and with plugs and light controls right at the table its a good place to work when you aren't eating. It even has a unique and very cool sliding feature. The table can slide back and forth, if you want it closer to you or further away from you, you can simply pull or push on it.
–          –          –
Indoor Kitchen
Many of the off road trailers have outdoor kitchens, but the UEV-19 made sure to have one inside. I personally love this decision, because if meal time rolls around and the weather is bad, you have to go out in it if you want to do your cooking. Cooking in bad weather is definitely not something I would consider comfortable.
It has a great stovetop and a nice oven. The sink is deeper than a lot of the outdoor kitchens you will run into which is also great. There is even a full sized fridge and freezer as well as a ton of storage space in all of the aluminum cabinets. This Kitchen really is fantastic, especially for an off road trailer where the inside space is often utilized for other features.
–          –          –
The Bathroom and Shower
Some manufactures will shove a toilet and shower into their trailers that are so small they are almost not worth having, but I am really impressed with what Conqueror did here. Pictures really don't do these justice, so I'm going to give you a link to the YouTube video that shows them off. Check it out at 1:12:50 to about 1:18:00
Let's start with the bathroom. There is lots of storage space under the sink with two sliding doors to get into the aluminum cabinets. The sink is a great with its depth. Lots of trailers' bathroom sinks are very shallow making it super easy to get water everywhere. This one doesn't have that problem, being almost as deep as the kitchen sink. Even better than the sink and the cabinets is the space around the toilet. You have enough room to be comfortable, rather than being so cramped that you almost have to just curl up into a ball to sit down.
Now, this shower is just… wow. I have never seen such a nice and spacious shower in an off road caravan. It's mind boggling. Many showers are so small that it is difficult to get even one person showering in them. This shower puts those others to shame. The soap test is a breeze. In fact, just to test it, we were able to fit two adults in this shower, both around 6 feet tall and both between 200 and 300 pounds. Even with both of them in there, there was still some room to spare! On top of the spacious room, the plank looking floor makes you feel like your on board a yacht! I was just so impressed by this shower.
---
Conclusion
With the UEV-19 you really do get the best of both worlds. Because of its off road capability you have the freedom to adventure wherever you desire and will never be confined to the campgrounds. Not only that, but while you explore the world you can do so in comfort. This is a "his and hers" trailer if I have ever seen one.
Check out one of the exclusive dealers: ROA OFF-ROAD
Check out some awesome off road caravan videos: https://www.youtube.com/@ROAOffRoad
Talk to the people who can help you get into the perfect camper for your needs: 801-860-0035
Check out the UEV-19: https://www.rvsofamerica.com/product/conqueror-uev-19/
---
Something a Little Extra (Specs)
Demensions:
-Max length 25ft 4in
-Box Length 19ft 5in
-Max width (with awning) 7ft 7in
-Box width 7ft 3in
DRY WEIGHT: 6560 lbs
GVRW: 8376 lbs
-Max height (max airbag PSI) 9ft 7in
-Min height (lowest airbag PSI) 9ft
Clearance Max PSI airbags:
-9 1/4″ top of tire to floor of trailer
-Lowest point front tank to ground : 17 in clearance
-Sway bar clearance lowest point 15″
Angle of departure:
-Max airbags at rear 20 degrees departure
-7 1/4 inches of travel
Water Tank Capacities:
-Fresh Tank: 64gal **optional 120gal**
-Grey Tank: 32 gal
-Black tank**can be upgraded**
Interior:
-inside height 6ft 7in (floor to ceilings)
-King bed: 71″W x 80″ L